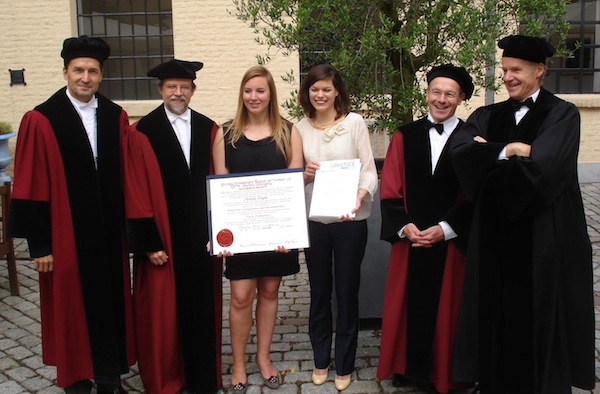 Anette Christ (4th from left) receives first Joint PhD of RWTH Aachen University, Germany and Masstricht University, The Netherlands
In der aktuellen Runde des Wettbewerbs "Bio.NRW" des Landes Nordrhein-Westfalen hat ein Konsortium unter Führung von Aachen und Bonn jetzt die Förderempfehlung erhalten. Das Projekt "StemCellFactory" hat die automatisierte Herstellung, Vermehrung und Differenzierung von induzierten pluripotenten Stammzellen (iPS-Zellen) zum Ziel, ein spezieller Typ von Stammzellen, die künstlich aus bereits entwickelten Körperzellen im Labor hergestellt werden. Das Projekt wird für einen Zeitraum von 3 Jahren unterstützt. Insgesamt fördert das Land neun Vorhaben mit 25 Millionen Euro.
In der Stammzellforschung ist Nordrhein-Westfalen bereits heute sehr stark. Ein konsequenter nächster Schritt ist die Umsetzung des vorhandenen Potentials in marktfähige Produkte. Das Projekt "StemCellFactory" bündelt dazu die in Nordrhein-Westfalen vorhandene Expertise. Die Federführung des Projekts liegt bei der RWTH Aachen und Life & Brain GmbH, Bonn. Beteiligt sind außerdem das Fraunhofer-Institut für Produktionstechnologie in Aachen, das Max-Planck-Institut für Molekulare Biomedizin, Münster, die Universität Bonn mit den Instituten für Rekonstruktive Neurobiologie und Physiologie I, und die Bayer Technology Services (BTS) GmbH, Leverkusen sowie die Firma HiTec Zang GmbH in Herzogenrath.
Als iPS-Zellen bezeichnet man Stammzellen, die nach einem erst seit kurzem verfübaren Verfahren im Labor hergestellt werden. Dabei werden adulte, also "erwachsene" Körperzellen durch Reprogrammierung in den Zustand von embryonalen Stammzellen zurückversetzt. Die Automatisierung dieses Verfahrens, sowie die automatisierte Differenzierung der iPS-Zellen in neurale oder kardiale Zellpopulationen, verspricht neue Impulse für die Entwicklung von Medikamenten. So könnten Wirkstoffe direkt an neuralen oder kardialen Derivaten der iPS-Zellen erprobt werden, die zum Beispiel aus Hautzellen von Patienten gewonnen wurden. Für Erkrankungen des Nervensystems und des Herzens standen solche Zellproben bislang nicht zur Verfügung.
Die Produktionsanlage integriert Automatisierung, Standardisierung und Parallelisierung aller erforderlichen Zellkulturschritte sowie ein umfassendes Qualitätsmanagement. Sie schließt damit eine Technologielücke in Pharmaforschung, Biotechnologie und Regenerativer Medizin. 
Kontakt: Martin Zenke, Univ.-Prof., Dr. rer. nat. Institut für Biomedizinische Technologien – Zellbiologie, Universitütsklinikum und Helmholtz Institut für Biomedizinische Technik, RWTH Aachen 
Telefon: 0241/80 80 760
Email:This email address is being protected from spambots. You need JavaScript enabled to view it.
Professor Burkhard Rauhut, Rector of RWTH Aachen, was not just a little surprised when an anonymous donor from Aachen suddenly decided to donate 300,000 Euro for stem cell research. His financial support should serve two purposes, on the one hand to contribute to new scientific findings in the forward looking area of stem cell research at the RWTH, and on the other hand to take stand in the debate on the current ethical and legal questions in stem cell research. Rector Rauhut is pleased that the research work of the RWTH is appreciated and recognised in public eye in spite of the controversial debate on stem cells in the political arena.

"Thanks to this generous donation we will now be able to hire an additional young and talented scientist who will be responsible for research in the important area of pluripotent stem cells", says a satisfied Professor Martin Zenke from the Institute of Biomedical Technology of the RWTH Aachen. Pluripotent stem cells possess a particularly wide development potential. This "all-rounder" is able to develop into many types of cells of the body and can therefore be used in the generation of patient-specific stem cells. "With this ability pluripotent stem cells open up new perspectives for medical treatment", explained Professor Zenke. So that this potential can be used for medicine, it still requires further scientific information on this cell type. For this purpose a young scientist will take up this work at the Institute for Cell Biology by the summer semester of 2008 and will spend the next five years concentrating on research on these cells.
Subcategories